Unveiling the Charms of Sustainable Safari Adventures
In a world where travel and environmental responsibility coalesce, The Travel Hat stands as a beacon of conscientious exploration. Across its carefully curated portfolio of boutique lodges and villas, a symphony of sustainable, eco-friendly safari adventures awaits the discerning traveller. Join us as we delve into the enchanting stories of four remarkable properties that epitomize luxury, harmony, and preservation – Selous Impala Camp, Hatari Lodge, Shu'mata Camp, and Sentinel Mara Camp.
Selous Impala Camp: Beyond the Ordinary
Nestled amid the awe-inspiring landscapes of Tanzania, Selous Impala Camp beckons with its commitment to treading gently on the Earth. Delving deeper, guests are invited to witness the behind-the-scenes marvels during an exclusive 30-minute tour. The eco-friendly camp's dedicated water treatment system and solar panel power setup harmonize with the environment, allowing for a seamless off-the-grid experience. A point of immense pride is the camp's distinction as 100% plastic-free – a testimony to its dedication to preserving the pristine natural beauty that envelops it.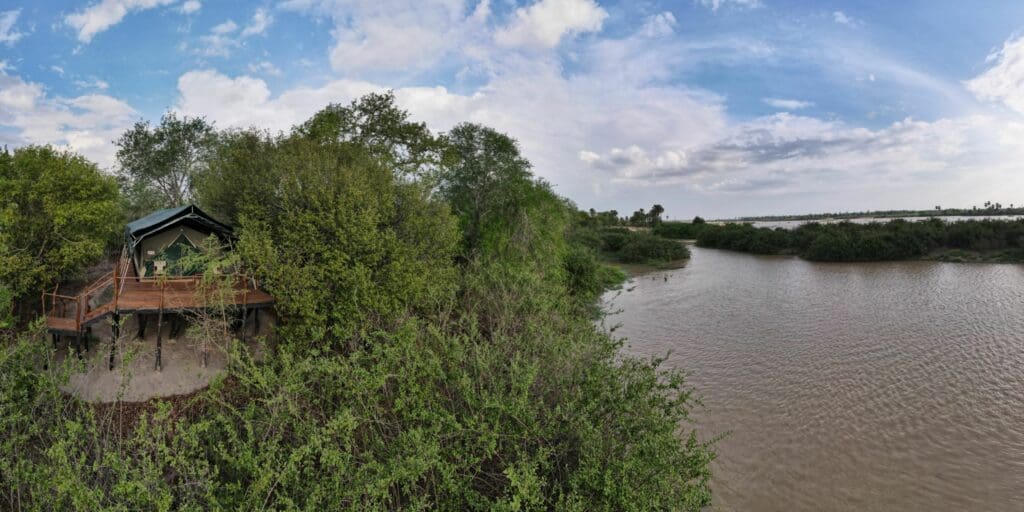 Hatari Lodge and Shu'mata Camp: A Dance of Tradition and Sustainability
In the vast expanse of Tanzania, Hatari Lodge and Shu'mata Camp stand as tributes to time-honoured practices and ecological harmony. These eco-friendly properties seamlessly weave through a diverse community of tribes, animals, plants, and more. By fostering a balanced relationship, they ensure the land thrives while welcoming guests to savour Tanzania's indigenous culinary treasures. Every dish is a testament to sustainability, flavour, and a shared commitment to a thriving ecosystem.
Sentinel Mara Camp: A Luxurious Refuge Rooted in Responsibility
Tucked away in Kenya's Maasai Mara, the eco-friendly Sentinel Mara Camp offers a luxurious haven that whispers of sustainable living. The camp's DNA is entwined with a commitment to ecological stewardship. Solar-powered water heating, composting toilets, and locally-sourced organic cuisine converge to minimize its footprint while maximizing the guest experience. The architecture melds seamlessly into the surroundings, offering guests an opportunity to shower beneath the stars and awaken to the serenades of the African wilderness.
Sustainability Beyond Borders: Nurturing Communities and Heritage
Sentinel Mara Camp takes its promise a step further by nurturing connections with local communities. Beyond its perimeters, it empowers individuals through initiatives like "Business for Life," spurring the growth of local entrepreneurship. By intertwining conservation with community welfare, the camp epitomizes a harmonious coexistence where humans and wildlife thrive together.
Immersive Escapes: Envisioning Your Sustainable, Eco-Friendly Safari Adventure
As you peruse the captivating visuals of these remarkable properties, a tapestry of experiences unfurls before you. Envision yourself cocooned in luxurious nature, enveloped by the sights, sounds, and sensations of the wilderness. Through these images, you'll catch a glimpse of a journey that seamlessly interlaces indulgence and eco-consciousness.
A Call to the Eco-Adventurer: Join the Movement
The Travel Hat beckons to intrepid souls who seek luxury entwined with purpose. Whether Selous Impala Camp's off-the-grid allure, Hatari Lodge and Shu'mata Camp's reverence for tradition, or Sentinel Mara Camp's sustainable elegance captures your imagination, you're invited to partake in an expedition where each footfall leaves a minimal footprint and a lasting legacy. In the realm of sustainable safari adventures, The Travel Hat's portfolio transcends the ordinary, offering a realm where luxury and eco-friendliness intertwine to create an extraordinary journey. Embrace this ethereal odyssey, where your wanderlust aligns with the rhythms of the Earth, crafting memories that honour both the planet and your soul's thirst for discovery.