Tee Off on Your Dream Golf Getaway
It's time to tee off with the best properties that will transport you to a golfer's paradise in the heart of South Africa's Western Cape. If your idea of the perfect vacation involves teeing off amidst breathtaking landscapes and enjoying a golf holiday that combines luxury with pristine fairways, you're in for a treat. Join us as we unveil the Western Cape's finest properties that are tailor-made for an unforgettable golf getaway. Grab your clubs and get ready to explore a world where golf meets pure indulgence. Let's dive into the lush greens and coastal beauty of the Western Cape!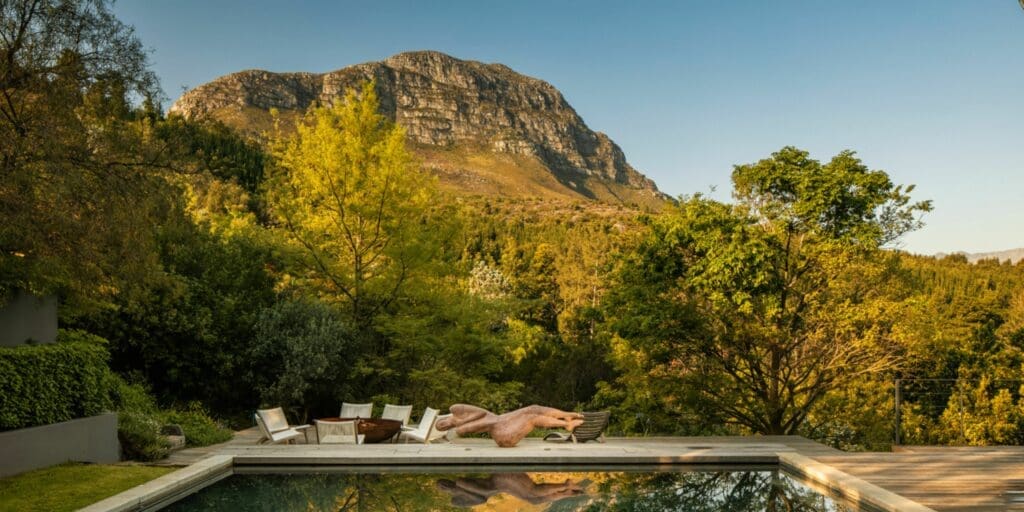 Spanish Farm Guest Lodge: Discover the Ultimate Luxury Golf Getaway
Escape to the picturesque landscapes of Somerset West and experience an unforgettable golf getaway in the heart of the Western Cape at Spanish Farm Guest Lodge. This hidden gem, proudly part of the RAW Africa Boutique Collection, offers a peaceful haven across its expansive 4-hectare estate, showcasing the true essence of South African hospitality. Situated in a prime location surrounded by many spectacular golf courses, you can return after an exhilarating day on the golf course to a luxurious retreat, choosing between the Guest Lodge, the Rose Cottage perched atop the estate, or the opulent Villas tucked below. The sweeping vistas of False Bay and the majestic mountains serve as a constant backdrop, creating a serene atmosphere. With panoramic views and lush indigenous gardens, Spanish Farm provides the perfect starting point for exploring the Western Cape's beauty. Golf enthusiasts can indulge in rounds at renowned courses like De Zalze Winelands Golf Estate, Erinvale Golf Club, and Devonvale Golf & Wine Estate. And when you're not teeing off, savor the region's famous wine routes, embark on thrilling safari adventures, or even brave a cage dive with sharks in Gansbaai. Located just a stone's throw from Cape Town International Airport, Cape Town, and an array of attractions, Spanish Farm ensures that your golf holiday is filled with both relaxation and excitement. With private nature pools, wooden decks, and an ocean-view terrace, Spanish Farm Guest Lodge promises a golf getaway that's as luxurious as it is tranquil. Your Western Cape golf adventure awaits.
The Greens Guest House: A Tranquil Fairway Escape in the Western Cape
Looking for the perfect spot to enjoy a fantastic golf holiday with your family or friends in the Western Cape? Look no further than The Greens Guest House situated in Knysna. This property boasts eight exquisite en-suite bedrooms, each meticulously designed with tasteful decor to offer a serene sanctuary during your stay. After days spent exploring the breathtaking Garden Route or tackling the nearby Knysna Golf Course, you can unwind in style and comfort. The Knysna Golf Course, steeped in history since its establishment in 1909, is practically a stone's throw away, making it a golfer's paradise. The Greens Guest House takes its name from its close proximity to the greens and seamlessly blends into the lush Garden Route surroundings. With private entrances, en-suite bathrooms, and furnished patios for savoring your morning coffee, each of the eight rooms is equipped with modern amenities and exudes a touch of classic elegance. Make The Greens Guest House your home base for an unforgettable Western Cape golf getaway, where relaxation and golfing pleasures harmoniously come together.
Oubaai Villa: Experience Putting in Paradise
Elevate your Western Cape golf holiday to a grand finale at Oubaai Villa, gracefully situated within the prestigious Oubaai Golf Estate in George. As a cherished member of the RAW Africa Boutique Collection, this self-catering oasis promises a getaway that's truly unique, floating above the treetops and offering a holiday experience like no other. Here, you'll find golfing excellence on The Ernie Els 18-hole Championship course, serenaded by the call of the fish eagle and the soothing melodies of local birds, all while relishing breathtaking views of the Outeniqua Mountains and the Gwaiing River gorge. Every bedroom, the lounge, dining room, and kitchen showcase spectacular northern vistas, bringing nature even closer with wall-to-wall folding glass doors. And when you're not on the greens, soak up the warmth of summer days and evenings by the private rim flow swimming pool, ideal for creating cherished memories with family and friends. Oubaai Villa stands as the ultimate haven for golfers, bird enthusiasts, and families in pursuit of relaxation amidst the captivating beauty of the Western Cape.
Get ready to tee off on a golf adventure like no other and craft unforgettable memories with your fellow golf enthusiasts!
Did any of these remarkable destinations and experiences pique your interest?
Whether you're seeking a peaceful round of golf, a family escape, or a golfing getaway with friends, we have the perfect options waiting for you.
Click here to discover your next golfing escape!